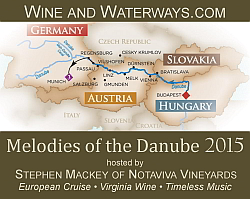 Stephen Mackey, owner of the Virginia winery
Notaviva Vineyards
(Purcellville), is hosting a wine and music European river cruise next year where travelers can enjoy fine European and Virginia vinifera and Central European music. The
Melodies of the Danube 2015
starts in romantic Budapest where you spend the day touring Buda and Pest. I highly recommend an hour in the Central Market Hall and the Tokaji wine bar. Learn to appreciate dry Furmint as I did many years ago. Also, if you have a chance to sample Soproni Kekfrankos or anything from Villany - drink it.
From Hungary, the boat travels to Austria and while gently cruising along the Danube, Mackey will be leading several wine lectures throughout the journey. He will be pouring wine from Notaviva and showcasing why Virginia is a rising wine region as well as leading comparative tasting between the Virginia and Austrian wine.
1) Onboard Wine Tasting - "Austrian Varietals in America" Host Stephen Mackey leads a discussion of Blaufrankisch, Zweigelt and Gruner Veltliner. Enjoyed with Notaviva Vineyards "Vierzig" Blaufrankisch inspired by Mozart's 40th symphony.
2) Onboard Wine Lecture #1 - "Wine and Music Pairing Experience" -- Led by host Stephen Mackey, guests will enjoy two blind tastings of Virginia wines, accompanied by diverse music playlists and and engaging, interactive evaluation of how various musical genres accompany different wine styles. Includes discussion on the science of cognitive neurology and emotional receptors as they relate to the sensory perception of wine.
3) Onboard Wine Lecture #2 - "Introduction to Music Theory" -- Enjoy a carefully chosen selection of Virginia and Austrian wines while host Stephen Mackey analyzes works from Beethoven, Mozart and Strauss and explains the core technical elements of Western music such as melody, harmony, texture, rhythm, dynamics, form and tone color. Each composer's work will be paired with an appropriate wine, and there will be fun quizzes and prizes!
4) Paired Wine Dinner - "Ottantotto" barrel-fermented Viognier, "Vierzig" (Mozart) Blaufrankisch, "Ode to Joy" (Beethoven) Meritage
5) Onboard Wine Lecture #3 - "TasteLive!" -- Host Stephen Mackey will conduct the first-of-its-kind live International tasting of Austrian and Virginia wines from the ship while connected via social media and video conferencing with passengers' friends, family and Virginia wine industry colleagues back in Loudoun at the Notaviva Vineyards tasting room.
Wachau - courtesy of AWMB / Gerhard Elze
The boat spends four days in Austria - Vienna, Krebs, Durnstein, and Linz where the spotlight remains on wine but the classical music of Strauss and Mozart as well as traditional folk music are introduced. There are several opportunities to explore medieval villages and sample wine from various Austrian wine regions: Wein, Wachau, Kremstal, Wagram, and more. Here you will get your fill of Grüner Veltliner, Riesling, Zweigelt, Blaufränkisch, and perhaps a smooth Pinot Noir (Blauburgunder). The final destination is Passau, Germany where Octoberfest and beer come into play. And for even more fun, AMAwaterways, the host travel agency, is also offering pre and post cruise tours of Budapest, Munich, and Prague. To learn more about the host winery, Notaviva Vineyards, check out this profile in
Northern Virginia Magazine
. Cheers and happy cruising.